Featured in New Jersey – the Garden State, 6-Jan-2013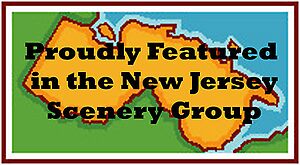 Top Ten in the Going Somewhere Challenge, 17-Sep-12, This That and the Other Thing Group

Featured in Color Me A Rainbow in Nature, 6-Oct-2012

~~~~~~~~~~~~~~~~~~~~~~~~~~~~~~~~~~~~~~~~~~~~~~~~~~~
I adore this archway and love to take photos of it. Something marvelous about it to me. It is an archway between two driveways at Skylands Manor. The gardens here are the New Jersey State Botanical Gardens.
The front of the house looks like a castle – the back looks like an Elizabethan Tutor home or huge Swiss chalet.
The house and gardens, including formal gardens and specimen plantings, were built in the 1920s by Clarence MacKenzie Lewis, a New York City stockbroker and civil engineer. Lewis hired architect John Russell Pope to design the Tudor revival manor house (44 rooms). The manor is a reproduction English mansion featuring rectangular, bay and oriel windows. the Tudor Revival Mansion was intentionally made to appear centuries old. The building has weathered stone facade, and the sags and ripples in the slate roof. All stone was quarried on the estate.
Tudor Architecture originated in England in the late Gothic period, and continued to be popular into the Renaissance. Its most notable characteristic was the half-timbering on the exterior; it also featured crenelated walls, large groups of rectangular windows, oriel (suspended) or bay windows, and intricate chimney complexes. The interiors usually had large central halls, wood panelling, molded plaster ceilings, and elaborately carved staircases. Tudor Revival became a popular style for the elaborate country houses of wealthy Americans.
Skylands 1,119 acres (4.5 km²), also known as the New Jersey Botanical Garden, is a mansion and 96-acre (390,000 m2) botanical garden in Ringwood State Park in the borough of Ringwood, located within the Ramapo Mountains in Passaic County in the state of New Jersey, United States. Its formal gardens are open to the public year round.
In 1966 the entire estate was bought by the State of New Jersey to form a State Botanical Garden whose settings include a Lilac Garden, Magnolia Walk, the Wild Flower Garden, the Crab Apple Vista, an allée of 166 trees extending almost a half-mile, and the Perennial Garden. The entire section now comprises slightly over 4,000 acres (16 km²) of parkland.