Featured in Statues and Such, 15-Apr-2013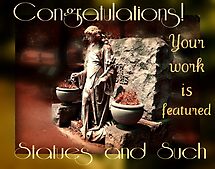 The State of Virginia monument is southwest of Gettysburg on West Confederate Avenue.
done in sepia with grunge texture background.
The Virginia monument was the first of the Confederate State monuments at Gettysburg. it was dedicated on June 8, 1917 and unveiled by Miss Virginia Carter, a niece of Robert E Lee.
It is also the largest of the Confederate monuments, a fitting tribute for the state that provided the largest contingent to the Army of Northern Virginia, its commander, and its name. Lee's figure, topping the monument astride his favorite horse, Traveller was created by sculptor Frederick Sievers from photographs and life masks of the general.
The section of the monument I show here is below Lee at the base of the monument. There are seven Confederate soldiers. According to the marker at the base of the monument the group represents various types who left civil occupations to join the Confederate Army.
Left to right; a professional man, a mechanic, an artist, a boy, a business man, a farmer, a youth.
Virginia contributed over 19,000 men to the Army of Northern Virginia at Gettysburg. Almost 4,500 of these became casualties, a quarter of those engaged.