BEST viewed enlarged to see the unique texture of Shell paper
All images © Angela L Walker, all rights reserved. Please DO NOT PIN any of my images on Pinterest.
103 views as of 10/22/12
Featured in Art Universe October 2012
Featured in Superbly Visual October 2012
Featured in Living Christianity October 2012
Featured in Abstract-Surreal Art October 2012
The 23rd Psalm was the inspiration for this piece:
The Lord is my Shepherd; I shall not want.
He maketh me to lie down in green pastures:
He leadeth me beside the still waters.
He restoreth my soul:
He leadeth me in the paths of righteousness for His name' sake.
Yea, though I walk through the valley of the shadow of death,
I will fear no evil: For thou art with me;
Thy rod and thy staff, they comfort me.
Thou preparest a table before me in the presence of mine enemies;
Thou annointest my head with oil; My cup runneth over.
Surely goodness and mercy shall follow me all the days of my life,
and I will dwell in the House of the Lord forever.
Quoted from the King James Version of the Holy Bible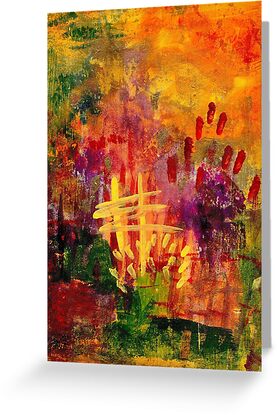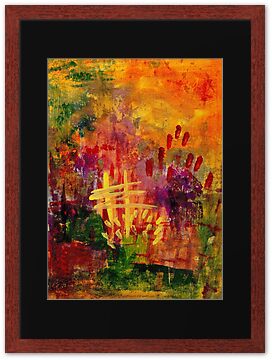 This mixed media painting is made from acrylic and ink on natural Shell Paper (see below).
Shell Paper is a multi-media paper made with actual shell emulsion, specially designed to accept acrylics, watercolors, inks, pastels, and even oil pastels! The paper comes in colors and natural white; colored papers are made using organic pigments, and natural white adds a beautiful pearlescent effect to transparent washes. Surface is lustrious and semi-absorbant. In fact, the calcium in the shell coating allows for wet media techniques, making Shell Paper the ideal surface for multimedia expressions using a wide array of media from crayon and charcoal to fluid acrylics and inks.
The paper is handmade sheet by sheet, so each piece of Shell Paper is unique and somewhat different than the next.