BEST viewed enlarged
All images © Angela L Walker, all rights reserved. Please DO NOT PIN any of my images on Pinterest.
Featured in Art Universe August 2012
Featured in Art At It's Best August 2012
Featured in Tuesday Afternoon August 2012
Featured in The Group August 2012
I took a big piece of watercolor paper , started some music, and began to paint. Layer by layer, I was having a mighty fine time… kinda like that song like the song (The Doobie Brothers). The finished collage is 18×24 – It speaks of the joy of creative expression and the fun an artist can have if they let go and PLAY! It's a mixed media collage piece made from my painted papers and tissue paper.
Being too large for my scanner, this piece is just a corner of the original.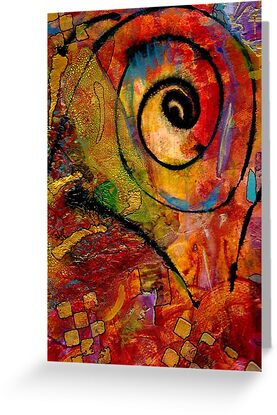 Here is the full size original (photo)

This is an 18″ × 24″ mixed media collage made from painted rice paper, tissue paper, acrylic, watercolor, and ink on Canson 140lb watercolor paper