BEST viewed enlarged
All images © Angela L Walker, all rights reserved. Please DO NOT PIN any of my images on Pinterest.
1119 views as of 2/25/14
Featured in Art Universe August 2012
Featured in The Group August 2012
Featured in Collage with Traditional Mediums August 2012
I hope this final painting conveys all the glory that makes Earth the luscious planet that it is. No matter how bad things can get, I think we have beautiful landscapes, beautiful people, beautiful flowers, lively energy and a vibrancy that would be the envy of other planets!
This abstract is the result of using the leftovers from my SoJie 18 Abstract Workshop painting called


Here's what it looked like at the end of Stage 2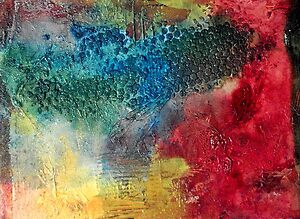 Earth and All Her Grandeur – WIP
by Angela L Walker
The image above illustrates my NO WASTE belief. By that I mean, I keep gessoed canvases, Bristol pads, and Watercolor pads nearby so I can use the leftover paint still on my brushes for the foundation of future works. I hate to swish my brush in water and see all that beautiful color taint the water; much rather use that luscious paint somewhere else. LOL
This painting/collage is an 9″ × 12″ wrapped canvas made using acrylic, dry wall tape, aluminum foil, tissue paper, and ink.