BEST viewed large
2959 views as of 4/14/14
Calendar
Featured in Art Universe May 2012
Featured in Abstract Art May 2012
Featured in The BEST of The Best of Red Bubble May 2012
Featured in The Group May 2012
Featured in LIVE LOVE DREAM June 2012
Featured in We Sell Art and Collectibles July 2012
Featured in Collage with Traditional Mediums July 2012
Featured in Women Painters September 2012
Featured in The Virtual Museum October 2012
Featured in Red Bubble's Treasures November 2012
Featured in 5 June 2013
Well, since today is my 56th birthday, I decided to paint a bright and vibrant abstract as a means of personal celebration! :).
I have this rather unusual calendar that shows three months at a time… so when I changed all the sheets to welcome in the lovely month of MAY, I decided to gesso the old sheets and play a while! This piece is about half of the final painting (which will be used to make my 2012 flag books). "Painting makes me oh so happy… brings so much peace and positive energy to my existence… though I'm over 50 now, I can celebrate my butt off all year long from now on… all I have to do is create ART!" :)
P.S. Ok! I got it! The response to my day of play and celebration has me re-thinking cutting up this abstract into smaller pieces for books… Instead, I'm going to mount it on canvas or clay panel for display. Thank you so much for helping make my 2012 birthday so much FUN and filled with JOY! Love and hugs, Angela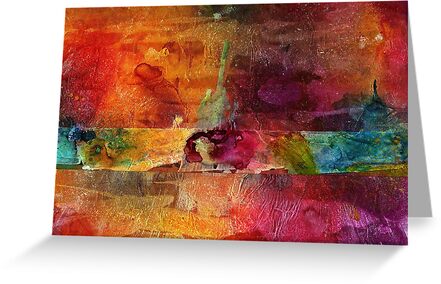 This painting was made using three fluid and heavy body acrylics, Adirondack Color Wash, and ink on three different recycled calendar pages glued together.
For those interested in how I did this, here are a few WIPs to show the process:
WIP 1 – In this step, I tear of calendar sheets and squirt gesso over them in a playful manner.

WIP 2 – In this step, I rearrange the sheets to put the grey on in the center and spread out the gesso to form patterns. After this sets a little, I place a sheet of tissue paper on top of these and apply color washes to achieve the effect in the final piece.