BEST viewed enlarged
131 views as of 6/28/12
Featured in Creative, Talented, & Unknown April 2012
Back when my life was heading downhill faster than I ever imagined possible… back before I left a career in Engineering to embrace one in Human Resources and Emotional Intelligence, I was introduced and embrace the concept of LIFE MAPPING. It made a significant difference in my life… a positive difference in direction and flow. Each year, I update my Life Map to reflect progress toward goals. Life Mapping consists of thought and documentation… personal thoughts and actions to LIVE LIFE fully. A good Life Map has several sections:
the purpose of LIFE
the purpose of my life
my beliefs (personal, spiritual, and universal)
my principles (rules of the road… things I need to follow to live life in alignment with my beliefs)
my personal goals (these are generally reviewed and updated annually)
Now that you have that background, this piece was inspired by 3 of my documented principles: durability, laughter, and optimism.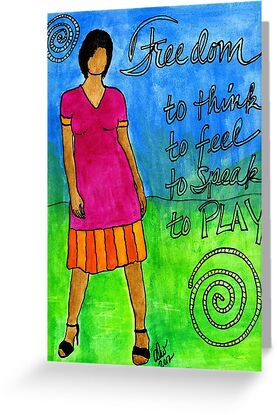 Durability:
I will not let others control my life
I will not allow another person's perception of me to become my reality
I will seek God first in all things so I can stand against the wiles of Satan, his followers, and the darkness of this world
Laughter:
I will laugh often and freely
I will laugh, especially to relieve daily stresses and to remind me that the world won't end if things don't turn out exactly as I planned
I will go outside my comfort zone daily to meet new people and cheer up at least one person's day
Optimism:
I will learn to find value in the valleys of life
I will focus on possibilities; not impossibilities
I will focus on what can be; not what can't be or won't be
I will expect good to triumph over evil in all things
This is a 9" x12" painting made with fluid acrylics, watercolor, and ink on a medium weight watercolor paper.