BEST viewed enlarged to see the texture of the dryer sheets used to make the background
185 views as of 7/13/12
Featured in Painters Universe December 2011
Featured in The Virtual Museum December 2011
Featured in Live. Love. Dream. July 2012
The giant people
of my imagination
are love seekers…
sowing seeds of faith
and hope
everywhere they go…
theirs is a glorious bond.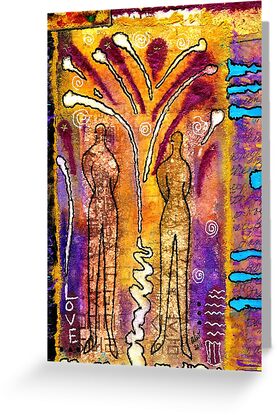 This mixed media collage was made from an unusual mix of materials: acrylic, wax pastels, ink, two painted recycled Bounce dryer sheets, torn paper, printed and painted cotton, and hand-painted watercolor paper, all mounted on canvas painted with acrylic. The main artwork (center) was carefully done on the dryer sheet (I used freezer paper as a backing to stabilize the dryer sheet) and then adhered it to the collage as a near final step in the creation process.