BEST viewed enlarged to see the unique texture of Shell paper
All images © Angela L Walker, all rights reserved. Please DO NOT PIN any of my images on Pinterest.
618 views as of 5/18/2013
Featured in Abstract Art October 2011
Proudly displayed in The Best of Red Bubble October 2011
Featured in Inspired Art November 2011
Featured in The Virtual Museum November 2011
Featured in Mixed Media November 2011
Featured in Fantastic Mixt Art December 2011
Featured in Uncommon Materials to Draw and Paint With December 2011
Featured in Art Universe January 2012
The inspiration for this piece… the words of Amir Sulaiman: "…I watch her inhale pain and resentment but exhale love and forgiveness— not forgetfulness less she become a victim instead of a victor!"
So in this piece I call Transitions, I'd like to take the gloominess of disappointment and loss; turn it into joy and gratitude.
Here is Amir Sulaiman delivering the inspiration for this piece
Video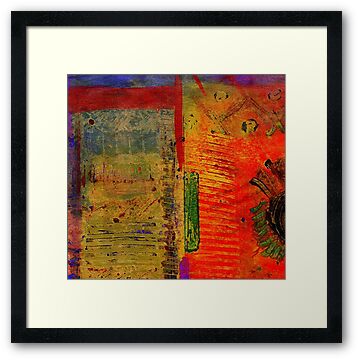 This is a mixed media piece: oil, watercolor, and wax on paper. The scanned image was slightly enhanced digitally using Picasa to more closely represent the original painting.