BEST viewed enlarged to see layers and detail in painted papers used in the background
137 views as of 7/8/12
Featured in Collage with Traditional Mediums June 2012
Featured in Artists Universe July 2012
One day I was experimenting with drawing flowers to enhance my drawing skills and discovered I really liked this particular piece of that drawing session. So, I tore it out from all the rest and saved it to use in future collage work. Not too long after that, I was inspired to create this collage: Red Affection.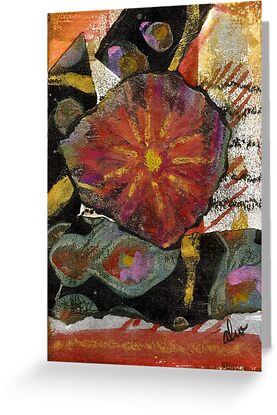 This is a mixed media (pre-encaustic) collage:
All papers painted by the artist. I used bleach to paint my designs on black linen paper; then added Shiva oil paintstixs to provide color and detail; then tore the paper and added it to a watercolor background painting I did – mounted the entire collage to Masonite.
The final piece was encased in beeswax and slightly embellished with pigmented wax. It sold before I could scan and upload that version.