BEST viewed enlarged
223 views as of 8/8/12
Becoming a woman is really a life long journey… it doesn't end until you do!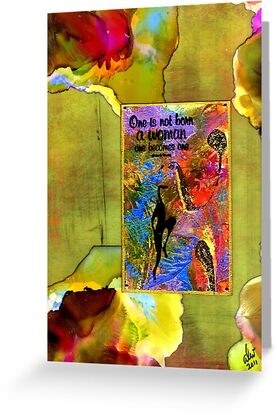 This encaustic mixed media collage (9″ × 12″) was made using painted papers, alcohol inks, acrylic, mica, glitter, sand, gouache and metal. There are layers of different papers used in this collage; the corners were made using alcohol ink, the center was done using a variety of media on 4″ × 6″ watercolor card stock, and the background is watercolor and acrylic medium weight paper. The final piece was glazed with beeswax.