Featured in Uncommon Materials to Draw and Paint With December 2011
Proudly displayed in The Best of Red Bubble December 2011
This is an encaustic mixed media collage on birch wood panel. The collage painting has real organic tea as its foundation… a rich and wonderful scent exudes from it. The wild flowers in the tea break down under the heat of the wax and tint the painting with rust and lavender. Embellishment are then embedded in even more wax. The wax medium acts like the soft gel medium used in traditional collage work.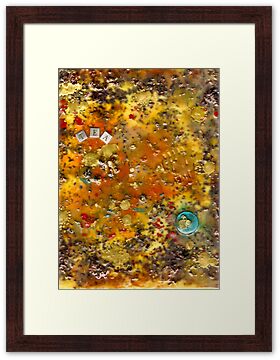 I draw and paint my backgrounds and/or foundation work (using wax pastels, watercolor, oil) then use a pancake griddle to liquify colored wax and continue painting with brushes, sticks, and other tools. Once the ALL the painting is done I coat most of these works with a clear layer to wax medium for preservation.