Please view large – it is so much better
3057 views as of 3/31/14
Calendar

Sally Sargent Fine Art Award
Excellence in Color and Design
SoJie 16, June 2012


June 2012 Juried Invitational Exhibition
Featured in Abstract Art October 2011
Featured in Painters Universe November 2011
Featured in Superbly Visual December 2011
Featured in Mustard Seeds and Lilies December 2011
Featured in Mixed Media January 2012
Featured in Art Universe January 2012
Featured in 100-199 Views February 2012
Featured in Artists Universe May 2012
Featured in STAR June 2012
Exhibited in SoJie 16 June 2012
Featured on Red Bubble Explore Page June 27, 2012
Featured in Exquisition July 2012
Featured in Living Christianity June 2013
When I went out West (USA)
to attend the 2009 NOVA Conference,
I marveled at how magnificence
and magnanimity
our Almighty God…
How brilliant His creations still are!
Red Rock Country in Scottsdale, AZ
(my inspiration for this painting)
took my breath away!
Even though
it was a devastating time in my life,
I remained grateful to God
for embracing me in the strength of HIS arms!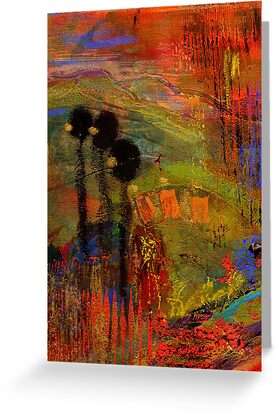 This a mixed media collage on 18 in. × 24 in.wood panel using acrylic, watercolor, mica, tissue paper, water soluble pastels, and ink. It is the digitally enhanced version of my original scan; color clarity enhanced using Picasa.