1099 views as of 5/18/2013
Featured in Collage with Traditional Mediums October 2011
Featured in Mixed Media November 2011
Featured in Abstract Art November 2011
Featured in Inspired Art November 2011
Featured in Art Universe April 2012
Featured in The Group April 2012
Featured in Artists Universe April 2012
I started my day out with a drawing that would focus on things that brought me JOY… And then, as I developed activites for other surviving victims of violent crimes to use as a way to heal and remember their loved ones
(with more JOY and less pain), I thought of the basic design for this encaustic collage. For me, seeing warm colors like yellow and orange seemed to bring forth a smile… and as I thought of my son, the flowers came into view.
Creating "On My Window Sill" brought me much JOY that day; I now share it with the HOPE that it will also bring JOY to others!
The companion painting to this one is called The Glow of JOY.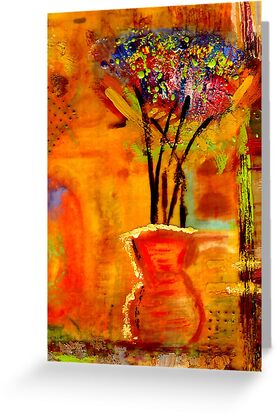 This encaustic mixed media collage was made using an under painting made using acrylic, watercolor, wax pastel and ink; then I added beeswax, pigmented wax and oil to finish off the project.
Encaustic painting is the process of using hot wax as your painting and binding medium. I hand dye my own cloth and make/ paint various paper designs to make my collages.Although I've been using other mediums for a few years now, I just started my encaustic journey in 2011. Stay tuned, more encaustic art yet to come in 2012.