Wallflower
Available as a framed print, canvas print, mounted print and card.
To the pretty girls who sat silently but were never asked to dance….
Does the hurt still resonate deep inside?
Wallflower is a continuation of my experiment trying to achieve stained watercolour effect.
I owe some inspiration to Mucha's flowery illustration style.
Wallflower is much richer as Mucha used soft colours, but with my love for rich colours and as the Wallflower's feelings are intense, I had to go with the strong;)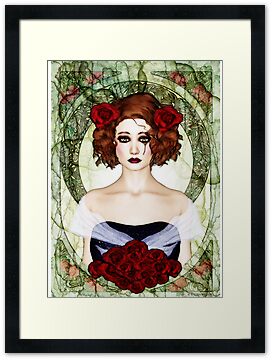 Image copyright © 2008 Shanina Conway.
Copying and displaying or redistribution of this image without permission from the artist is strictly prohibited.