Computers are pretty much part of our lives now but I remember the horror of the first Win 95 window pop up and seeing FATAL ERROR.
…I totally freaked and was ready to take the computer back to the department store for a refund…before a friend gently and laughingly explained what was going on…….but I never got over that "in your face" feeling of Fatal Error and Fatal Exception.
..I mean why Fatal ….., that's so fatal, why not some cute character like me popping up saying, "Don't Stress Darlink, but we have to close for a bit"
And what about "Illegal Operation"…I swear the first time it happened I thought the stormtroopers were going to break down the front door!
I really think Bill and his team could have put a little more thought into the trauma windows 95 could cause before inflicting it on the public.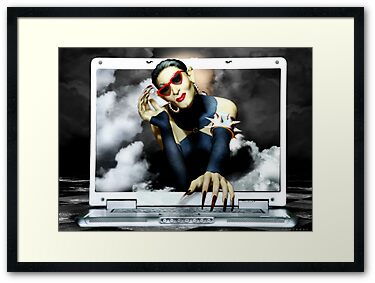 Available as a card, print and poster.
Image copyright © 2008 Shanina Conway.
Copying and displaying or redistribution of this image without permission from the artist is strictly prohibited