Lust in Space – Retro Sci-Fi art available as a framed print,canvas print,poster,greeting card and postcard
Homage to the 1950's B Grade movie poster Artists who created some amazing work..
Loosely based on Robbie the Robot and Lost in Space
Available also on a t-shirt.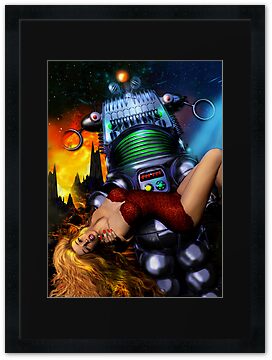 Added to the Movie Humor group and as I made this title up I guess the closest would be The Forbidden Planet;)
A special thanks to Arduino
the author of the robot model.

Image copyright © 2008 Shanina Conway.
Copying and displaying or redistribution of this image without permission from the artist is strictly prohibited Note: Image is embedded with Digital Fingerprint

Thanks for looking and hope it made you smile:)
If you enjoyed tihis work you might like
Catwomen of Mars