01001100010011110101011001000101
(binary for "LOVE")
Inspired by "Two Birds, One Stone" by Drop Dead, Gorgeous: Wes Borland/Renholder Remix from the Underworld soundtrack. When I listen to music it's usually the sound that matters more than actual meaning of the words. This artwork is more inspired by the sound remix-effects than the actual lyrics.
Listen to the song here (ignore the video).
If you wish to read the lyrics, click me here.
-——————-
ABOUT THIS INTERPRETATION OF LOVE:
Love is a firing of neurons in your brain. It is energy of emotion running through your veins. Powerful and undeniable. Beautiful devouring fire. Programmed into us by the Great Architect.
---
Photoshop manipulation/composition of several photographs taken during a night drive after it rained.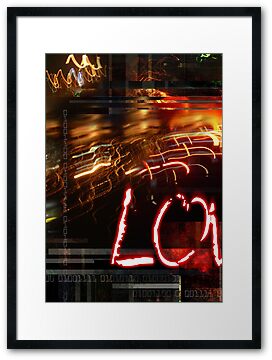 FEATURED IN