That wonderful feeling
That comes out of nowhere
Catches you by surprise
And there you are,
Dancing down a supermarket isle
Singing the song that's playing
And the trolley's no trolley, to be filled up with groceries,
Now it's part of the dance
And for once it doesn't matter
What people might think.
Or you're walking to work
And the wind runs up behind you
And there you go, racing each other down the street
Laughing and red-faced,
You step into staff-room,
Grinning, you greet your workmates,
And the day turns out great.
And when it's raining
Instead of running for cover
You spread your arms wide
And, spinning, you lift your face to the rain.
Though your clothes are all wet
And your hair is a mess
You find yourself grinning again.
This lightness of being shows no discrimination
It doesn't care who or what,
It comes to us all.
I've seen rabbits leaping
Snowflakes swirling, flowers bursting,
Stars dancing through the heavens
Seas running with the tide
Lightness of being, it just happens
It comes out of nowhere,
You cannot hold it
Try, and it melts like a snowflake in your hand.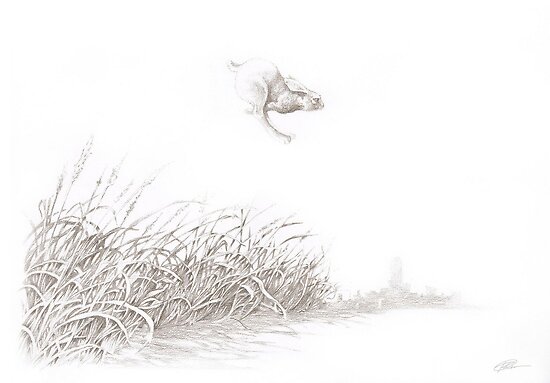 Sergei's image Rabbit
a lightness of being, if ever there was one :)