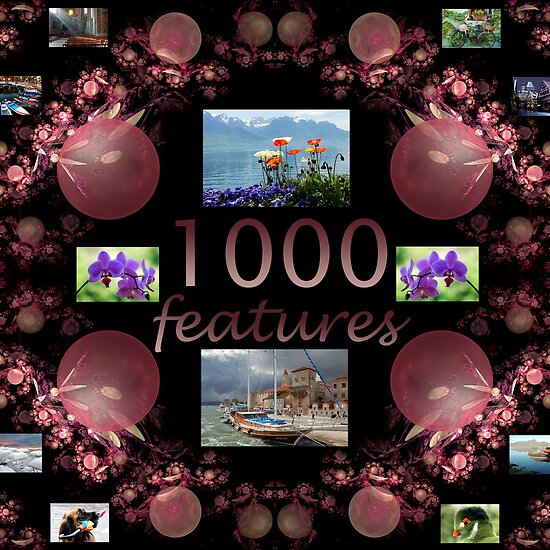 This week (March 26, 2011) I received my 1000th feature.
A good moment for a celebration.
Since the start of my membership on Nov 23 2008 I received:
In addition to the 1000 features: 94 challenge winners and 900 non-winning Top 10's.
Also a good moment to thank all moderators for the features and everyone who voted on my entries in the challenges.
My 1000 featured pictures:
The first 900:


0001-0100 0101-0200 0201-0300 0301-0400 0401-0500 0501-0600






__Nature__TheWorld__European__Lakes__DutchShow__CntrBest_





Bumpkin_DutchTouch_DutchTouch_Fr.Energy_4Winners__Seasons_







_TimeGate__Cottage__4Letters__AllNature__4Letters__Nat.Symph_







_Contrast__Numbers___Beach___FieryHot___Rainbow__Alphabet_






_Alphabet__European_WhichWay_Weekend_WndowFlair_4Winners_







_Weekend_CntryRoad__LetLive_ColRainbow_Entertain_FourLetter_







Streetscape_Statues__4Winners_StreetArt_WindowFlair_PhotoChal_







Mountains__A Home__CntryBest__Bumpkin__TheWorld__Harbour_






RefBuiding_Rainbow_ColRainbow_Weekly__FourLetter_Shopfront_







_Unique_MagicPLace_Atmosphere_Weekend__Mailbox_WindowFlair






__Lisbon____Lisbon__Vis.flight__Numbers_FasPurple__Coastal__







_Windows_Trompoeuil__Food_____1-2-3__Frameframe__Coastal_







CntryBest__FrAbstract__Globes__HistPlace__WashDay__Harbour__






ColRainbow_Itswhat__CntryBest___LightUp_NatureEnt___Flags___






_LiveLove___Trees__WoodenBoat_Portugal__Numbers_FourLetter_







__Austria___Tables__ColRainbow_Ontherun_Buildings__Backyard_