Sold 3 greeting cards purchased by Diane Barrett, thank you friend!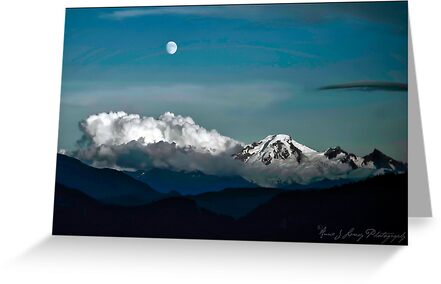 Diane sent me one and I must say the Redbubble is doing some great printing. Will be creating a black/white of this image soon.
Mount Baker in the Summer with a beautiful moon. Taken at my friends' engagement party (Kristal Barrett-Stuart) off the deck of this beautiful home in Abbotsford, BC,Canada
Nikon D2X -
All images are the copyright of the artist – © Annie J Lemay – AJL Photography. Images Do Not Belong To The Public Domain.
All Rights Reserved.
FEATURED
Pictures with the WOW Factor group
Scenery group
Your Countries Best group
Redbubble Boomers group
The Best of the Best group
Out of the Blue group