I'm just a guy that likes riding or driving around the countryside with my camera.
I live in The Potteries, England and just a few miles from some of the wonderful countryside of Wales & the Peak District as well as many industrial landscapes.
I have a love for older transport and these feature heavily in my portfolio.
I use a Nikon D300 using:
Sigma 18-50mm F2.8 DC MACRO EX Lens
Nikkor VR 18-200 ED DX Lens
AF-S Nikkor VR 70-300 f/4.5-5.6G IF-ED Lens
A 'nifty fifty' nikon 50mm 1.8
Nikon 85mm 1.8 prime
A few Cokin filters
Some of my older shots use an Olympus E300
I also enjoy writing, especially poetry which for me must rhyme. My bio could read like so: -
I know an odd but otherwise okay man
About him I'll tell you what I can
To amused friends and strangers alike
He'll talk non-stop of his silver motorbike
Yet when needed, he can listen too
And a friend in need he'll never shoo
Offering a mature shoulder on which to cry
Yet never judging or trying to pry
A man strong and vocal in his views
Oft giving those around cause to peruse
He chooses no god with which to share
Yet for those around he does deeply care
Needing no biased clergy's word to follow
Believing all religions to be simply hollow
This male pictures himself as almost slim
Others see an entirely different him
They view a body large and overweight
To him it appears fine, if no longer great
At work always free with tale or joke
Perceived as being quite a happy bloke
To the world he shows a cheery face
Keeping lurking worries in a hidden place
Not sharing even the most minor doubt
Those that none of us are ever without
How often do I see this man you ask?
Every morning through the looking glass
Work
Most of my work is photographs but I also have a few tees, calendars and phone cases
Tee Shirts

Calendars

Phone Cases

Transport Photographs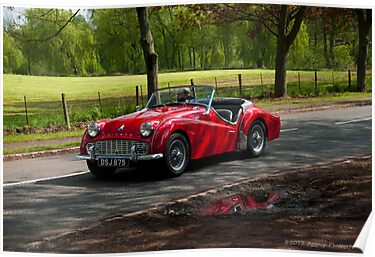 Railway Photographs

Landscapes

Buildings & Architectual Images

Other Images