5769 views as at 23January 2014
With the sun shining through a gap in storm clouds behind me, I managed to take a number of sharp images of just a few of the thousands of 'pinnacles', spectacular limestone pillars in Nambung National Park, near Cervantes Western Australia.
The formations are easily accessible from the dirt road which winds its way through the park, with countless foot trails leading from the various parking bays into the beautiful wilderness of the pillars.
Camera: Nikon D80. Lens Nikon 18-55 zoom.
FEATURED IN THE GREAT OUTDOORS
FEATURED IN HOLIDAY SIGHTS AROUND THE WORLD
FEATURED IN YOUR COUNTRY'S BEST
FEATURED IN NATURE IN ITS ENTIRETY
FEATURED IN POSTCARDS DESTINATIONS
FEATURED IN TWEED TO TAREE PHOTOGRAPHERS
FEATURED IN AUSTRALIA'S TRACKS AND TRAILS
Framed

See also The Pinnacles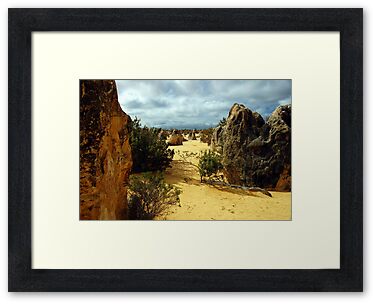 See also The Pinnacles