This flower was in a pot on my back porch. I love Gerbera daisies and I had so much fun shooting this lovely flower from all angles. This angle was my favorite.
2256 views as of April 11, 2014
Photographed with the Nikon 300S and Nikon 105mm f/2.8 micro lens.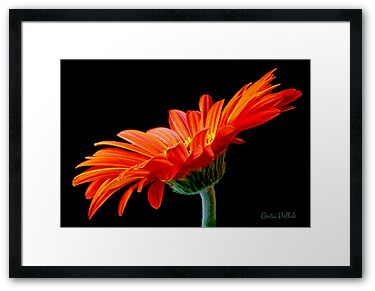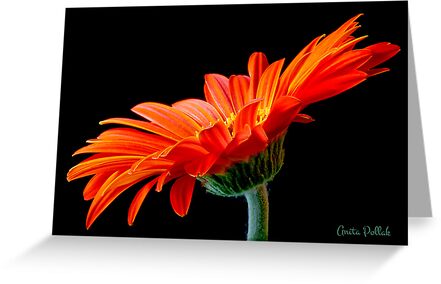 Top Ten Absolute Clarity Orange Flowers Challenge (March 31, 2014)
Top Ten Snaptacular Black Background Challenge (February 13, 2014)
Featured in Enchanted Flowers (February 4, 2014)
Featured in Art in Math (January 20, 2014)
Featured in Gorgeous Flower Cards (December 17, 2013)
Co-Winner Artistic Flowers Black Behind Challenge (November 15, 2013)
Top Ten Snaptacular Something Orange Challenge (September 24, 2013)
Featured in Color Me a Rainbow (July 14, 2013)
Winner One Single Flower on Display Orange is the Colour Challenge (June 20, 2013)
Top Ten Gorgeous Flower Cards Single Flower on Black Challenge (May 11, 2013)
Top Ten Enchanted Flowers Single Flower on Black Challenge (May 5, 2013)
Featured in Creative, Talented, and Unknown (May 3, 2013)
Featured in All Things Poetic, Artistic, Philosophical (April 6, 2013)
Featured in Snaptacular (March 31, 2013)
Featured in You Got It We Want It (March 30, 2013)
Featured in Low Light Dark Background Photography (February 2, 2013)
Featured in Artistry Group (January 15, 2013)
Featured in The Addicted Photographer (January 3, 2013)
Featured in Quality Unlimited Photography (December 17, 2012)
Featured in Plain Backgrounds (May 18, 2012)
Featured in International Showcase (April 28, 2012)
Featured in Macro Flowers (April 20, 2012)
Featured in Featured Women Photographers (April 11, 2012)
Featured in Color Me a Rainbow (April 9, 2012)
Featured in The Group (April 1, 2012)
Featured in All About Your Best Work (March 23, 2012)
Featured in One Single Flower on Display (March 18, 2012)
Featured in Live, Love, Dream (March 17, 2012)
Featured in Blooms – All Season Flowers (March 6, 2012)
Top Ten Daisy Group Daisy on a Plain Background (January 2012)