This is actually a white dahlia, and it ended up black purely by accident. I was using a "selective color" adjustment layer in Photoshop CS6 to remove some gray in the petals, and I happened to move the black slider to the right instead of the left and I just loved the way the flower looked!
Of course I wasn't happy with the background, so I isolated the flower and put a base texture (Vintage Clouds from French Kiss Textures) behind it. And then the fun begins…
I thought the flower needs more definition so I ran the Photoshop Poster Edges filter, and moved on to the background. I used several layers of Metallurgy from French Kiss Impressions V.4 set to different blend modes and opacities and finished it off with the grungy flourish from the French Script brushes, also from French Kiss Textures.
Nikon D700 with Nikon 105mm micro lens
200 views as of March 19, 2014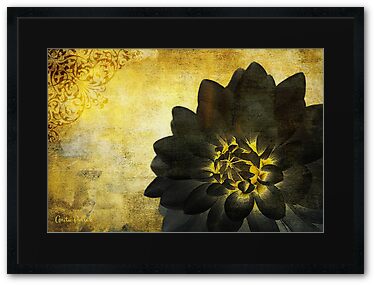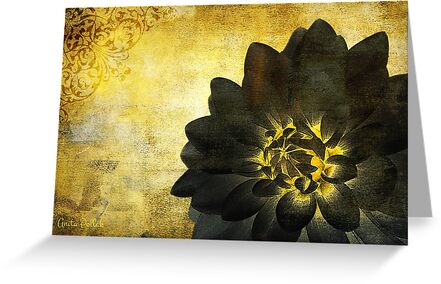 Top Ten Artistry Group Floral Artistry Challenge (March 11, 2014)
Featured in 60 and Beyond (March 2, 2014)
Featured in Superbly Visual (February 23, 2014)
Featured in Pixelations (February 18, 2014)
Featured in Fabulous Flowers (February 14, 2014)
Featured in The World as We See It (February 13, 2014)
Featured in Feminine Intent (February 12, 2014)
Featured in International Showcase (February 9, 2014)
Featured in A Place to Start (February 8, 2014)
Featured in The World as We See It (February 7, 2014)