Westford, Massachusetts, January 2014
We got about a foot of new snow today here in northern Massachusetts, but I shot this back in January after the last major snowfall. We have a wonderful woodland garden that abuts the woods behind our home, and this photo captures a corner of the garden and the woods beyond.
Dedicated to everyone in the cold parts of the world dealing with endless cold and snow!
Nikon D700 with Nikon 20-35mm lens
Processed in Photoshop CS6 with Topaz Restyle ( Nature – Orange Bush in Snow) and Alien Skin Snap Art 4, oil paint, custom settings.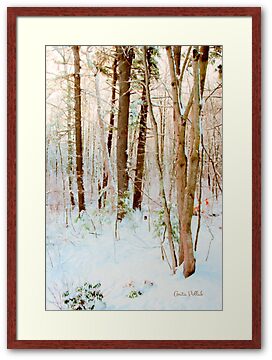 Co-Winner Just for You Good Bye Winter Challenge (March 9, 2014)
Featured in Everyday Women (February 13, 2014)
Featured in The World as We See It (February 13, 2014)
Featured in Layered Up (February 8, 2014)
Featured in Feminine Intent (February 7, 2014)