Worthy of a reference in Wikipedia:
Chuck Taylor All-Stars, or Converse All-Stars, also referred to as "Chuck Taylors", "Converses", "All-Stars", "Chucks" or "Cons", are canvas and rubber shoes produced by Converse. They were first produced in 1917 as the "All-Star," Converse's attempt to capture the basketball shoe market. Chuck Taylor, a basketball player and shoe salesman for Converse, improved the shoe's design and became the product's spokesperson in the 1920s.
As seen in a shop window on the the Avenue des Champs-Elysees Paris (Yeah, whatever, could have been anywhere….)
Sony NEX5 f15 1/125
Best viewed LARGE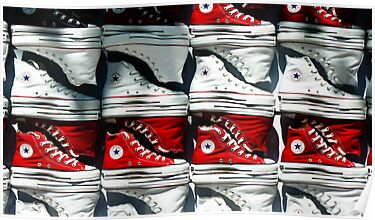 Sold as a poster – thank you!