PHOTO FEATURED BY "SUPERBLY VISUAL", BY "AT THE MARKET" AND BY "NIKON FUN" GROUPS
---
STREET LIFE COLLECTION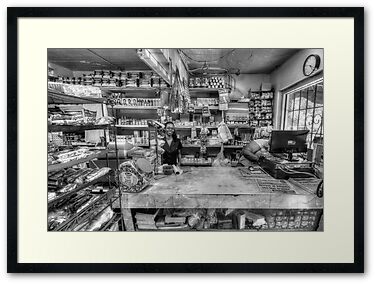 This afternoon, I was walking on the streets of Fox Hill Village in Nassau taking Street Life pictures
In front of the Grocery store, a young guy smile at me and said "Hey man, you're back here again… Liking the place aye?". Then he asked me what I was doing with the pictures and if I could give him a job. I explained to him that Street Life photos were only for fun and I was also doing other kind of photography works for sale.
He was very friendly to chat with and taking me by surprise, he grabbed my arm and said "Hey man, come with me" and he opened the door and pulled me inside the grocery store… Then, looking at the two ladies behind the counter, he asked "Do you think they'll be great models?"… I did not hesitate 1 sec and snap a shot of the ladies working there… Now, how funny is this and what about the result?
One lady is smiling and enjoy the fun of the situation and the second one was also having fun but still went (and stay) hidden behind her computer screen.
---
NIKON D5100 with 10-24mm NIKKOR ZOOM
1 shot (handheld) at F/10mm – 1/30 sec – f/8 – ISO 400

Processed with Photomatix, Color Efex Pro 3 and Nikon NX 2
---
Photographer: Jeremy Lavender Photography – Nassau, The Bahamas

Websites: http://www.242digital.com & http://www.242insider.com