The Challenge
For this challenge I want to see the captures you have of beautiful and amazing ceilings. Painted murals, mosaics, designs with skylights – you name it. the focus must be on the ceiling please. See my two examples here.
IMPORTANT
As soon as you enter the challenge, take the time to add your image to our gallery. your image can not remain in the challenge if it is not in the group.
Judging / Voting Criteria
1] vote for your favorite or favorites
2] vote for the one or ones you feel is the most colorful and beautiful
3] vote even if you have not entered the challenge
Rewards & Prizes
1] the top ten winners will be showcased in a group message and featured on the main overview page.
2] the top winner will be our avatar of our group for one week after the challenge
3] the host will choose 2 more images in the challenge to feature with the top ten on the main overview page.
Additional Information
PLEASE ADD YOUR IMAGE TO THE GROUP GALLERY – WE CAN NOT FEATURE IT IF IT IS NOT IN OUR GROUP.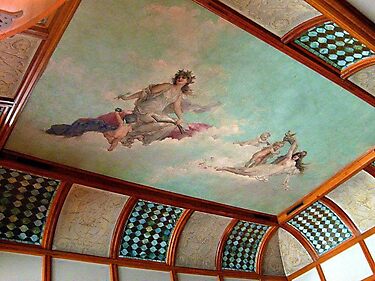 image above is Gorgeous Muse Painted Mural at Edison House, West Orange NJ by Jane Neill-Hancock
Cover Image: Unusual Ceiling of the Patio at the Breakers, Newport by Jane Neill-Han...