About This Group
1. Make sure you are submitting your very best work and it is made in the Ultra Fractal programs. *We do take the following combinations:
Ultra Fractal combined with Bryce, and Ultra Fractal combined with Apophysis. We will also take Ultra Fractal combined with FE or Mandelbulb. BUT….you MUST state in your description box which programs you used, if you do a combination piece! If you don't, we will remove the piece from the group!*
NO OTHER COMBINATIONS ALLOWED, PERIOD. NO PHOTOSHOP OR CS3, CS4, etc. The group for other combinations is Fractal Combinations! Thanks!
2. This is not a dumping ground for fractals. We urge you to use some discretion when submitting your work and not bombard the group. Currently your submissions are unlimited.
3. Participate in challenges and group activities.
4. Be respectful, courteous, and kind to one another at all times.
5. Abide by the RB rules and have fun.*
_______________________________________________________________
OUR BANNERS
Challenge Win Banner
Feature Banners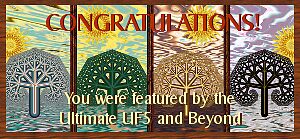 Fractal of the Week Banner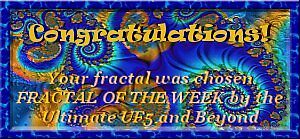 ______________________________________________________
OTHER FRACTAL AND ABSTRACT ART GROUPS IN THE BUBBLE
FRACTAL PARADISE
FRACTAL PONG
FLAME APOPHYSIS
FRACTAL Ts
3D Fractals & More
ABSTRACT ART
ABSTRACT DIGITAL ART AND WRITING
A FRACTAL A DAY KEEPS THE DOCTOR AWAY
A FRACTAL ENERGY PASSION
ALL ABSTRACT ART
ART IN MATH
DIGITAL ABSTRACTS AND PATTERNS
DIGITAL ARTISTS UNITED
DIGITAL WALL PAPER DESIGNS
DIMENSIONS
FEEL DON'T COPY
FRACTAL ART FRENZY
FRACTAL PERCEPTION
JULIAS AND MANDELBROTS
SPECTACULAR SPIRALS
Ultra Fractal programs are complicated to use, this is a group for dedicated uf5 program users to show case their work.