The Challenge
This challenge is for your photos or drawings of the beautiful little Christmas shelters we are all familiar with that are displayed at Christmas time, either on mantels, in store displays or in train set displays. You can share with us your old family treasured items or ones you have seen in a collectible store like I am displaying here with my examples.
I don't know about you, but as a child I always wished I could become miniature and walk around the village and look into the houses, stores, train depots, churches etc. Guess that is our flights of fancy we have as children! My dad had an amazing train set in the basement of one of our homes and I used to love to go down and watch the trains as they whizzed around the tracks with their lights on.
Judging / Voting Criteria
1] vote for your favorite or favorites
2] vote even if you did not enter the challenge
Rewards & Prizes
1] the top ten will be showcased in a group message and featured on the main page during this holiday season.
2] the winner or winners will join the featured members on the main page and in the running list of featured members in our forum that I will be starting shortly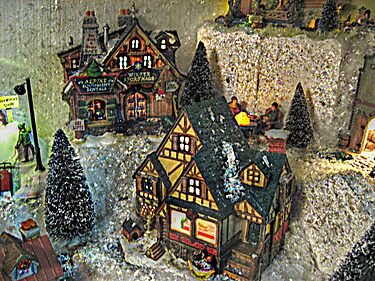 image above by Jane Neill-Hancock
Additional Information
YOUR IMAGE MUST BE ADDED TO THE GROUP OR I CAN NOT FEATURE IT!!
Cover Image: A Christmas Village In The Snow by Jane Neill-Han...