The Challenge
I grew up in the 1950s and 1960s, so I love memories of that time. Enter here any captures you have of cars, stores, diners, clothing, advertisements – you name it. As long as it is from the 50s and 60s it is good.
Judging / Voting Criteria
1] vote for your favorite or favorites
2] vote for the one you think represents best the 1950s or 1960s
3] vote even if you have not entered the challenge
Rewards & Prizes
1] the winner or winners will join the featured members on the main overview page and be added to the featured members running list in the forum.
2] the top ten will be showcased in a group message and probably featured on the main overview page.
Additional Information
PLEASE ADD YOUR IMAGE TO THE GROUP GALLERY – WE CAN NOT FEATURE IT IF IT IS NOT IN OUR GROUP.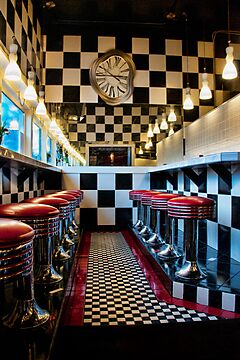 image above is Alfreds by TeresaB
Cover Image: Pope Elvis by flyrod