The Challenge
With Christmas coming, many of us will spend Christmas Eve and Christmas day in a church singing carols and worshipping. I have seen some gorgeous photos in our gallery of amazing church interiors – sanctuaries and galleries and cloisters. For this challenge share with us your best capture of a historic church or cathedral interior.
Judging / Voting Criteria
1] vote for your favorite or favorites
2] vote even if you did not enter the challenge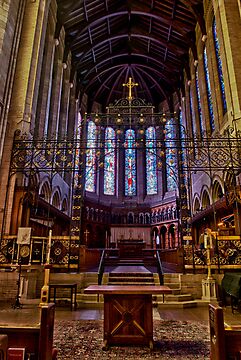 image above is Sanctuary by Adam Northam
Rewards & Prizes
1] The winner will receive a $20 RB voucher. Please be aware that if there is a tie for the winning slot, Red Bubble will require we run a tie breaker challenge to determine the winner of the challenge.
2] the top ten will be showcased in a group message and featured on the main page during this holiday season.
3] the winner will join the featured members on the main overview page and the running list of featured members in the forum.
Additional Information
PLEASE put your image in the group gallery when you enter the challenge. I can not feature your work if you do not add it.

image above is In Awe by Georgia Walters
Cover Image: Nave, Rochester Cathedral, Kent, England by Bob Culshaw