The Challenge
This challenge is for your images of statues – those you have found in a museum or by a historic landmark. or one you found that reflects an earlier time.
As always – you must follow the rules of the group. No outright nudity, partial is acceptable as long as the focus is not on the exposed part. Please people be tasteful.
ALSO – make sure your image is clear and in focus. Any that do not meet this criteria will be removed.
See my examples here – the face shot is of an Aphrodite Statue I found at Lambert Castle in Paterson NJ. The image below is one I took in Lincoln Nebraska. I am not sure how old the statue itself is, but it reflects the pioneer time of our country USA and the movement across the western plains in covered wagons.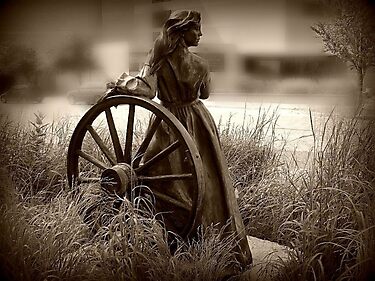 Judging / Voting Criteria
Vote for the one or ones you like.
Unusual POV, interesting subject, artistic setup – whatever you feel is outstanding about it.
Rewards & Prizes
1] Winner will get a $20 Red Bubble voucher
2] top ten will be featured on the overview page [as long as the images are entered into our group]
Additional Information
PLEASE – remember to put your image in our group.
We need 12 entries to get the voucher – so be aware if we get less than that we will not be giving out the voucher as the winning reward.
SUBMIT BEST QUALITY IMAGES.
Cover Image: Aphrodite Turns To Tell Me A Secret.... by Jane Neill-Han...