About This Group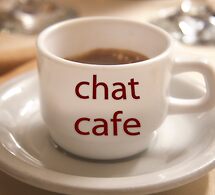 REAL HELP FOR REAL BUBBLERS
A place to get it off your chest in a friendly and safe environment, have your say, throw in your two cents worth and just enjoy.
Advice given by Chat Café experts is to be ignored and not taken seriously, if you have a problem or a question for which you are seeking a serious answer you've come to the wrong place. If on the other hand you wish to receive a blow to your ego and some poor advice which will most likely make the situation worse, then this is the place for you.
Redbubble does not endorse the advice of the Chat Café experts, and neither do the Chat Café experts themselves. Any good and proper advice is unintentional and the problem will be rectified at the earliest possible opportunity.
All questions should be directed to the Chat Barista who may ignore them or pass them on to the Chat Café experts at his/her leisure. Questions may be twisted and misrepresented and combined with other questions. If you wish to be identified either by your real name or another name, as the party posing the question please state this in your submission. Otherwise ridiculous names will be allocated by the Chat Café experts. Due to limited resources, only a small selection of questions will ever be answered. If you feel that you may take any rude or inappropriate responses to heart, please don't submit questions as we would hate to offend anyone.
Remember, Chat Café experts keep their tongues firmly in their cheeks and in yours if you're lucky ;-)
Chat Cafe Help And Advice Forum